NEW VIDEO
Midday Jazz at Saint Peters Church on April 27th, 2016. Barry Harris – Piano, Murray Wall – Bass, Yaya Abdul – Drums and Ronny Whyte on Vocals. Filmed by Steve Goldberg.
More Videos…
---
New Album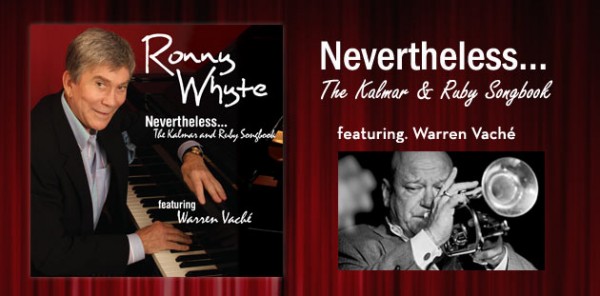 Released in April 2014, Nevertheless… The Kalmar & Ruby Songbook is the most recent release from jazz vocalist and pianist Ronny Whyte.  The record also features the talents of Warren Vache on cornet, Boots Maleson on bass, David Sillman on drums, Lou Caputo on reeds and Ben Sher on guitar.  For more information and to hear select tracks, click here.
All Albums…
---
NEW VIDEO
Checkout this video of Ronny performing live at the Midtown Jazz Gala from May 2012 with Boots Maleson on bass and Mauricia DeSouza on drums.
More Videos…