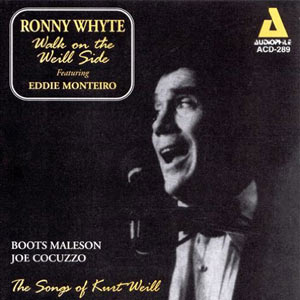 Walk on the Weill Side
---
Track List:
Moon-Faced, Starry-Eyed
My Ship
Here I'll Stay
Mackie Messer (Mack the Knife)
It Never Was You
This is New
A Rhyme for Angela
September Song
Love Song
Speak Low
Lonely House
Economics
We'll Go Away Together
Green-Up Time
Lost in the Stars
One Life to live
---
Buy Now
Audiophile Records
1999
Ronny Whyte interprets the music of Kurt Weill.
Recorded at Bioya Studio in Paterson, NJ (09/20/1995/10/05/1995).
All arrangements by Ronny Whyte.
Musicians:
Ronny Whyte – Vocals, Piano
Boots Maleson – Bass
John Cocuzzo – Drums
Eddie Monteiro – Vocalise, Accordion